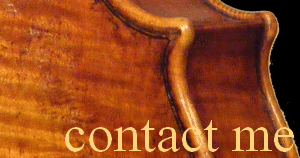 Workshop
- the Art of the Violin-maker -



"The sound qualities of a bowed instrument are rarely separate from its aesthetic qualities. The instrument-maker searches for and chooses measurements, relationships, proportions in function not only of the aesthetic form but above all of the acoustic result."


Even the definition "handmade" is extremely general, given that a bowed instrument is made, first and foremost with the "head". From the planning of the instrument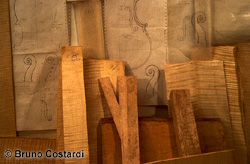 with preparation of moulds and templates for every detail, one arrives at the realization of the instrument only through experience and specific training.

Because in work which is essentially sculpture and joinery, not only is it difficult to respect all necessary parameters but also wood behaves in different ways according to its hardness, elasticity, weight, fiber distribution, seasoning, variety of cuts and porosity.

This is the main reason why industrial production has never reached the minimum quality standard for a professional use of musical instruments.

Various methods exist for the construction of a bowed instrument, but principally there are two: the "classic or Cremonese" method, which uses an "internal mould" and the "francese" method which uses an "external template".



violin, viola, cello, violoncello, viola d'amore, fiddle, violine, violon, baroque, old, classic, amati, guarneri, maggini, montagnana, ruggeri, rogeri, stradivari, salò, bertolotti, gasparo, guadagnini, gagliano, storioni, gofriller, strings, italia, italy, italian, brescia, bergamo, cremona, イタリア製バイオリンメーカー, 弦楽器, バイオリン, ヴァイオリン, アンティーク, 古いバイオリン, チェロ, イタリア, イタリアン, アンティークバイオリン, ベルガモ, ヴィオラ・ダモーレ, ブレシア, クレモナ, ガルネリ, ストラディバリ, 日本, イタリアンバイオリン
Use of this Web site means that you accept the
Terms of use
www.minugia.it/labora-e.htm
© 1998 - 2018 Copyright Bruno Costardi